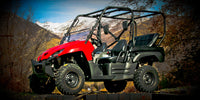 UTV Mountain Accessories Kawasaki Teryx Backseat and Roll Cage:
Powder coated to match stock roll cages.
Secure safety in the event of a roll.
Quick Mount System incorporated.
Use of stock mounts.
Added seating.
Product created with extreme care and precision.
Immaculate welding of product.
Product in stock and ready to ship within 1-2 business days.
With Kawaski's dedication to reinforce your passion for adventure, the Backseat and Roll Cage must reach that level of dedication. The Kawasaki Teryx Back Seat and Roll Cage provides the space and protection needed to add a few more witnesses to your thrilling, grand adventures. We go above and beyond and make installation and removal quicker! After the first installation, our quick mount system allows the FULL Backseat and Roll Cage to be installed or removed within 20 minuets. Beyond the quick installation and removal process this backseat and roll cage uses all stock mounts and requires absolutely NO drilling or cutting into your Kawasaki Teryx! By choosing this Kawasaki Teryx Backseat and Roll Cage kit you choose to limit the time spent preparing for your adventure so that you and your family can add that time to your powerful experiences!
Kawasaki Teryx Backseat and Roll Cage kit comes with:
Teryx Roll Cage Kit
42" Baja Bench Seat can fit two people (3 seater also available)
2 Black 4-Point Bolt-In Harness Belts OR 2 Black Bolt-In Lap Belts
All Mounting Hardware
Shipping is not included. Please call or email Chris. 801-687-5376 or sales@utvma.com