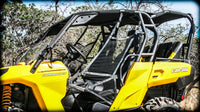 UTV Mountain Accessories Can-Am Rear Soft Top (2014-2020):
Product created with extreme care and precision.
Quick attachment and removal process.
Durable and fade resistant.
Created using 'Sunbrella' Fabric
Product in stock and ready to ship within 1-2 business days.
With the sun blazing in the sky and your Commander UTV determined to fulfill the drive for excitement, the Full Soft Top contributes to the comfort by providing shade from the blazing sun. This Soft Top is attached by Velcro Straps and tie-down buckles making it easy to attach and remove. The Commander Full Soft Top fits the Can-am Commander and the Commander Max with the Factory Front Hard Top. This Soft Top is made from a high quality material called "Sunbrella". "Sunbrella" Fabric is a durable, sturdy fabric that is fade resistant. With this Soft Top you can enjoy the shade above your head even if your hat gets tangled in the wind. Let your family dive into the magnificent adventures with this Full Soft Top sheltering their head!
 Please call or email for shipping rates. 801-687-5376. sales@utvma.com.