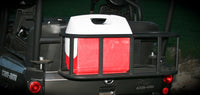 UTV Mountain Accessories Commander Max Cooler Rack (2011-2024):
DIMENSIONS:
12 1/4" Deep
30" Wide
10" Tall
Adds room for drinks or supplies.
Product created with extreme care and precision.
Bolts on and off in minuets.
Product in stock and ready to ship within 1-2 business days.
With the Commander Cooler Rack, when adventure calls, you know you have the space you need to bring the gear, supplies or drinks that are essential for your experience. The Commander Cooler Rack provides space for extra items. There are Cooler Racks available for both the Commander and the Commander Max UTV. The Cooler Racks measure 12" wide, 29" long and 10" tall and they bolt on and off in minuets. With the Cooler Rack bolted on, both models have the space for the commander Tail Gate to open so that your convenience is not compromised. It is powder coated to match the Stock Roll Cages so that the look of your commander is not compromised. With a Cooler Rack you can bring drinks that would normally be left home or place gear that would normally be at your feet. Let the adventures call and the magnificent experiences multiply.
Please call or email Chris for shipping rates or any questions. 801-682-5376. sales@utvma.com