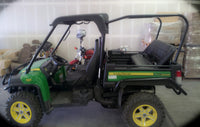 UTV Mountain Accessories John Deere Gator 825I Backseat and Roll Cage (2010-2012):
Quick Mount System incorporated
Product created with extreme care and precision.
Secure safety in the event of a roll.
Use of stock mounts.
Added seating.
Immaculate welding of product.
Powder coated to match stock roll cages.
Product in stock and ready to ship within 1-2 business days.
The John Deere Gator 825I is able to convert to fit your needs and is ready to follow you through even the most demanding terrain. If you expand its versatile abilities by adding a Backseat and Roll Cage you will expand your adventure capabilities. Our Backseat and Roll Cage uses Stock mounts and requires no cutting or drilling into your Gator. UTV Mountain Accessories has incorporated a quick mount system allowing you to attach or remove the Backseat and Roll Cage within 20 minuets (after the first installation). This Backseat and Roll Cage adds seating and safety so that you can take your whole family on exhilarating rides and with the quick mount system you can get back to converting your Gator to cater to what you need. With the safety and space this Backseat and Roll Cage provides you can become a little more daring and take your family on the invigorating adventures that are calling your name. Don't let anything stop you!
Gator 825I Backseat and Roll Cage kit comes with:
Gator 825I Backseat and Roll Cage
52" Baja Bench Seat (Seats three)
3 Black 4-Point Bolt-In Harness Belts OR 3 Black Bolt-In Lap Belts
All Mounting Hardware
Shipping not included. Please call or email for rates. Chris 801-687-5376 or sales@utvma.com