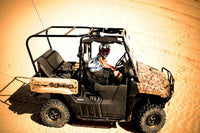 UTV Mountain Accessories Honda Big Red Backseat and Roll Cage (2009-2013):
Immaculate welding of product.
Powder coated to match stock roll cages.
Secure safety in the event of a roll.
Product created with extreme care and precision.
Quick Mount System incorporated.
Use of stock mounts.
Added seating.
Product in stock and ready to ship within 1-2 business days.
Honda Big Red makes for an ideal vehicle for work and adventure due to its multiple use ability. With a Back Seat and Roll Cage, your Honda becomes even more versatile. Our Backseat and Roll Cage fits 3 extra people so this expands your vehicle from a 2 seater to a 5 five seater. On top of that UTV Mountain Accessories has developed a quick mount system! This allows the back seat and roll cage to be attached or removed within 20 minutes (after the first installation) thus allowing you finish your work and then have your trilling adventures with your family. This Honda Backseat and Roll Cage uses all stock mounts so it is not necessary to drill or cut into your Honda. With this Roll Cage and Back Seat you will have enough convenience, safety and space to take the whole family on an exciting adventure! Let the adventures accumulate!
The Honda Big Red Backseat and Roll Cage includes:
Honda Big Red Backseat & Roll Cage
52" Baja Bench Seat, fits three people
3 Black 4-Point Bolt-In Harness Belts OR 3 Black Bolt-In Lap Belts  
All mounting Hardware
If you have any questions please feel free to contact Chris Jackson at 801-687-5376 or sales@utvma.com
Please call or email for shipping rates. Shipping not included.