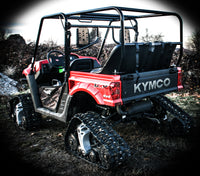 UTV Mountain Accessories Kymco UXV 700 Backseat and Roll Cage (2014-2021):
Added seating.
Immaculate welding of product.
Product created with extreme care and precision.
Powder coated to match stock roll cages.
Secure safety in the event of a roll.
Quick Mount System incorporated.
Use of stock mounts.
Product in stock and ready to ship within 1-2 business days.
Time is the catalyst for adventure. With the fantastic stories you tell of your thrills, extra passengers are never hard to find but they may be hard to accommodate. Adding a Backseat and Roll Cage grants you protected seats to accommodate the thrill starved admirers. UTV Mountain Accessories has developed a Kymco UXV 700 Back Seat and Roll Cage kit that has a quick mount system allowing the full Backseat and Roll Cage to be attached or removed within 20 minutes (after the first installation). This Roll Cage and Backseat also uses stock mounts which therefore require no drilling or cutting into your Kymco. Tell your stories and accommodate your admirers! Give them an adventure that, like your stories, they will never forget!
Shipping not included. Please call or email for rates. 801-687-5376. sales@utvma.com