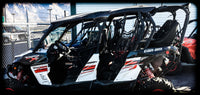 UTV Mountain Accessories Maverick Max Backseat and Roll Cage (2014-2018):
Does not work with Turbo.
Added seating.
Immaculate welding of product.
Powder coated to match stock roll cages.
Secure safety in the event of a roll.
Product created with extreme care and precision.
Quick Mount System incorporated.
Use of stock mounts.
Product in stock and ready to ship. Within 1-2 business days.
With an all terrain tackling master vehicle, which is focused on passenger comfort and trilling adventure satisfaction, it's hard to find yourself disappointed. The only thing left to do is expand. Take your Maverick Max from 4 seats to 6 seats or go beyond that and add the 3 seater Backseat and Roll Cage allowing your Maverick max to accommodate a total of 7 passengers! With our quick mount system you can attach or remove the full backseat and roll cage within 20 minuets, after the first installation. Beyond the speedy preparation the use of stock mounts allows the kit to be attached without drilling or cutting into your Maverick Max. This secure and safe addition to your vehicle is just what you need to have peace of mind so you can increase the number of passengers that you can captivate within the exhilarating experience!
Maverick Max Backseat and Roll Cage kit comes with:
Maverick Max Backseat and Roll Cage
42" Baja Bench Seat By can fit two people (Three Seater also available)
2 Black 4-Point Bolt-In Harness Belts  (2 Black Bolt-In Lap Belts) 
All mounting Hardware
Shipping not included. Please call or email for rates or any questions. 801-687-5376. sales@utvma.com