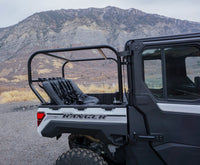 UTV Mountain Accessories Ranger 1000XP Backseat and Roll Cage:
Ranger 1000 (2018-2024)
Secure safety in the event of a roll.
Product created with extreme care and precision.
Immaculate welding.
Quick Mount System incorporated.
Use of stock mounts.
Powder coated to match stock roll cages.
Added seating.
Product in stock and ready to ship within 1-2 business days.
Smooth, hardy and built to last. The heart of the ranger is determined to push past defiance. Your Ranger 1000 XP is too exciting to only have one extra seat. Add a Backseat and Roll Cage and share the adventure with a few more riders. With a quick mount system incorporated, the Polaris Ranger 1000 Rear Seat and Roll Cage can be attached and removed within 20 minutes (after first installation). Beyond that installation requires NO drilling or cutting into your Ranger due to the use of all stock mounts. The Roll Cage is powder coated to match the stock roll cage. Take the advantage of the extra seats and show off what your ranger can do! With the roll cage protection and the extra seats there is nothing holding you back!
Polaris Ranger 1000 Rear Seat and Roll Cage Kit Includes: 
Ranger 1000XP Backseat and Roll Cage kit
52" Baja Bench Seat (Seats Three)
3 Black 4-Point Bolt-In Harness Belts OR 3 Black Bolt-In Lap Belts 
All mounting Hardware
Shipping not included. Please call or email Chris for rates. 801-687-5376, sales@utvma.com