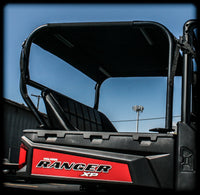 UTV Mountain Accessories Ranger 900XP Rear Soft Top:
Meticulous care in every detail.
Product created with extreme care and precision.
Durable and fade resistant.
5 year fade resistant warranty included.
Created with 'Sunbrella' Fabric
Quick attachment and removal process.
Product in stock and ready to ship within 1-2 business days.
With the addition of a Backseat and Roll Cage you have extended your vehicle's accommodation capabilities. Now why not expand the comfort and add the smooth look of a Rear Soft Top. This Rear Soft top is attached by Velcro Straps and tie down buckles making it easy to attach and remove. Our seamstress and designers are meticulous with every detail and use a high quality, durable, sturdy material called "Sunbrella" When standards are high you can know that this Soft Top is going to exceed expectations so let your Soft Top inhibit falling debris and instill comfort throughout the entire adventure. Leave your riders standing in awe of the entire experience!
For shipping rates or questions please contact Chris at 801-687-5376. sales@utvma.com.