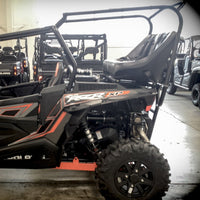 UTV Mountain Accessories RZR 1000 Backseat and Roll Cage:
This fits models 2014-2023 only! *Does NOT fit the PRO Models*
Added seating.
Powder coated to match stock roll cages.
Product created with extreme care and precision.
Secure safety in the event of a roll.
Immaculate welding.
Use of stock mounts.
Quick Mount System incorporated.
Product in stock and ready to ship within 1-2 business days.
As your speeding through your adventure and reeling in the thrill, of course you want to include your whole family! With this Backseat and Roll Cage you will have room for your extra passengers, for their imagination and for their stories! The use of stock mounts allows our backseat with roll cage to require NO drilling or cutting into your RZR, and with a race inspired vehicle we know that the preparation must not exceed your adventure time therefore we have formulated a quick mount system for all our Backseat Roll Cage kits which allows the attachment or removal process to be accomplished within 20 minuets! (after first installation). With more passengers, more stories, more imagination, your adventures can create an alternate realm of reality!
RZR 1000 Backseat and roll cage kit comes with:
RZR 1000 Backseat Roll Cage
42" Baja Bench Seat (seats two)
2 Black 4-Point Bolt-In Harness Belts OR 2 Black Bolt-In Lap Belts 
All mounting Hardware
Shipping not included. Please call or email for rates. 801-687-5376. sales@utvma.com