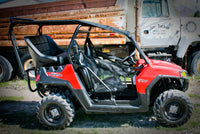 UTV Mountain Accessories RZR 570 Full Soft Top (2012-2022):
Created using 'Sunbrella' Fabric
Product created with extreme care and precision.
Durable and fade resistant.
Quick attachment and removal process.
Product in stock and ready to ship within 1-2 business days.
You always share your invigorating adventures with the people around you because you know the elevating feeling as you tear through the dirt and twist through the terrain! By taking a little extra care to incorporate a Full Soft Top you can exalt the experience. With the added smooth look and the extra shade your RZR 570 will begin to feel luxurious. All UTV Mountain Accessories Soft Tops are made from one of the highest quality materials called 'Sunbrella' which is durable, sturdy and fade resistant. Beyond the look and feel a full soft top also provides extra protection from falling debris. This Soft Top is attached by Velcro Straps and tie-down buckles making it easy to attach and remove. Live fully in the moment because you make it incredible!
 Please call or email for shipping rates. 801-687-5376. sales@utvma.com