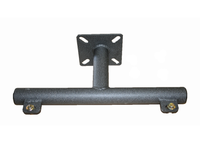 UTV Mountain Accessories RZR Spare Tire Rack (2008-2024):
Powder coated to match stock roll cages
Created with extreme care and precision.
Bolts on and off in minuets.
Provides placement for spare tire.
Product in stock and ready to ship within 1-2 business days.
With all the exhilarating twists and turns your RZR makes, make sure your prepared for anything. Mountain Accessories RZR Spare Tire Rack provides a place to carry your spare tire with you on the trail so that you can immerse yourself deep into your engaging venture and rest assured you have what you need to confront the unfortunate event of a flat tire. The Spare Tire Rack bolts on and off in minuets and it is powder coated to match the roll cage so that the great look of your RZR is not compromised. Your tires are the foundation of your UTV experience and without them you may be forced to abandon your UTV adventure! Don't risk it! Include the Tire Rack and avoid being stranded out in the wild terrain due to a tire failure! With a tire rack, you can abandon your worry instead of your UTV and become one with your captivating experience!
Shipping is not included. Please call or email for rates. 801-687-5376. sales@utvma.com.