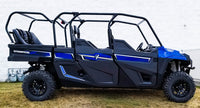 UTV Mountain Accessories Textron Stampede 4 Backseat and Roll Cage (2018-2021):
Powder coated to match stock roll cages.
Secure safety in the event of a roll
Quick Mount System incorporated.
Product created with extreme care and precision.
Added seating.
Immaculate welding of product.
Product in stock and ready to ship within 1-2 business days.
When your out on the trail with all your friends or family members be prepared to safely share your exhilarating experience with them. If you are lacking a Backseat and Roll Cage you may find yourself nervous to bring those extra passengers on the most exciting adventures! Textron Stampede 4 Back seat and Roll Cage Kit adds safe adventuring to your trip! UTV Mountain Accessories has developed a quick mount system so that preparation does not claim hours of your adventure time! With all stock mounts the kit requires no drilling into your stampede and after the first installation the Roll cage and Backseat is easily removed or attached within 20 minuets! Drive out on the trail knowing you have the added safety for your passengers so you can tackle your adventure! There is nothing holding you back!
Textron Stampede 4 Backseat and Roll Cage kit comes with:
Textron Stampede Backseat and Roll Cage
48" Baja Bench Seat can fit two people (3 Seater also available)
3 Black 4-Point Bolt-In Harness Belts OR 3 Black Bolt-In Lap Belts 
All mounting Hardware
Shipping is not included. Please call or email for rates. 801-687-5376. sales@utvma.com.